Exploring an abandoned psychiatric hospital with morgue in St. Thomas, Ontario
Introduction
In August of 1937 construction began on a hospital in St. Thomas, Ontario which became known as the Ontario Government Hospital, St. Thomas. It was built on land belonging to six farm families. The 460 acres of land was able to provide crops for the facility's food and produce.
The hospital opened on April 1, 1939 and took in its first 32 patients. By August the number of patients was close to 1,100 people. The maximum capacity is said to have been reached in 1958 with 2,238 patients. At the time the St. Thomas Psych had a reputation for being the finest mental health hospital in Canada due to its modern design. It also provided jobs during the recession.
World War II
When World War II was declared, the hospital was leased to the Department of National Defence. The agreement took effect October 23, 1939. The last patients were transferred out on October 31, 1939. Supplies for the R.C.A.F. began arriving three days later.
Sixty thousand men and women from every country in the British Commonwealth, as well as American volunteers with the R.C.A.F. were trained here. The school was known as, "No. 1 Training and Technical School".
The nurses residence was converted to house R.C.A.F officers and their family.
The school was equipped to handle more than 2,000 students at a time. They offered six-month courses for aircraft electricians and aero-engineers, air-frame and instrument mechanics and training for fabric and sheet metal workers.
With the local economy now being increased, St. Thomas responded with drop-in centres offering free coffee and sandwiches for R.C.A.F. personnel, dances, and other activities.
By October 1942, 20,000 ground crew personnel had graduated from the school. In 1944, capacity for treating returning wounded soldiers was increased from 200 to 700 beds.
Patients were relocated to other parts of the province. The hospital was returned to the Ontario Department of Health and reopened to patients in 1945.
Patients were able to take part in the farming and food production process which contributed to feelings of self-worth and contributing.
Beginning in the 1970's it was decided that rather than confine people to institutions, that through mental health transformation patient care should shift from that of an institutional model to helping patients learn to live productive lives in the community. It offered patients hope and recovery.
There was a nurses residence on the other side of the highway (Sunset Drive) and underground tunnels provided transportation. A bicycle at each end of the tunnel allowed nurses to quickly make their way from one end to the other.
1988 Incident
In 1988 two patients at the hospital were given day passes to allow them to work. One patient earned enough money to purchase a car. On March 31, 1988 one of the two men told his boss that he wanted to "leave early and get laid". The two men drove to London where they found a fourteen year old girl waiting for a bus. She was abducted and beaten in the car on route to the factory where one of the men worked. The girl was thrown into a river where she later walked to a nearby house for help.
Transition
The St. Thomas Psych Hospital was taken over by St. Joseph's Health Care in London as part of a reorganization initiative ordered by the Health Care Restructuring Commission (HSRC) in 1997. HSRC directives called for the divestment of a certain number of long term specialized inpatient beds from St. Joseph's to hospitals across southwestern Ontario and the construction of two new specialized mental health care facilities, one in London and one in St. Thomas. The report recommended significant transitional funding to build community resources that would offset the eventual closure of beds.
A modern state of the art hospital was built on the grounds of the existing hospital in St. Thomas. It opened in June of 2013.
The hospital has taken on several names: Ontario Hospital, St. Thomas Psych and St. Thomas Regional Mental Health Care.
The colours blue and green were often used on walls as they created a calming atmosphere.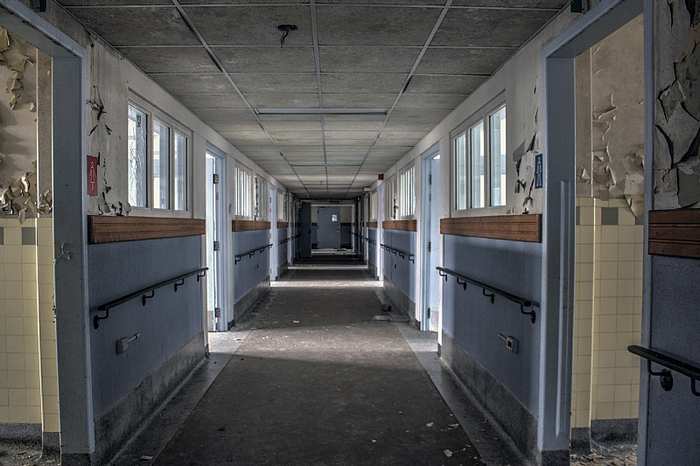 While exploring this facility in 2015 we found a pigeon trapped inside. It was flying into the walls in a panicked attempt to escape. Using a pair of gloves, one of our crew plucked it and let it escape out a window. We then closed the windows to prevent a recurrence.
Other events:
February 2016 – OPP warn explorers to stay out of the facility.

January 2020 – Actor Jason Momoa intends to film a post-apocalyptic television show inside the former hospital. It will be titled 'See' and will be released on Apple TV.
All research done by TWP.