This house has had several owners over the last few decades. Most notably, a woman named Rebecca who came to Canada in 1974 with very little money, not knowing how to speak English and having no job prospect.
The Story

Rebecca had never been able to make her own decisions. At age 22 she'd never been on a date, had no privacy and had few social interactions. On her last day of medical school she passed by the American embassy who rejected her, so she tried the Canadian embassy on the other side of the street to inquire about becoming an immigrant.
Rebecca left her parents a letter and fled to Canada. She had studied at medical school in her homeland of Yugoslavia but found that her medical education was not recognized in Canada. She found work as a secretary while attending night classes to learn English.
Rebecca met her husband in 1979 who was a door-to-door salesman.
In 1989, Rebecca read that Canada was deregulating the energy sector. Seeing this as an opportunity, she went to the library to research buying and selling natural gas. She founded an energy company. Sadly her husband passed away in a car accident around the time she earned her first million.
She's estimated to have made $150,000,000 since 2001. Besides owning this property, Rebecca also owns a $20 million beachside villa in the Dominican Republic and a Porsche.
In 2001 the house was purchased for $5,050,000 by Rebecca's two children – Daniel and Alexandra. In May of 2021 the house was sold for $15,480,000.
The House

Downstairs is a large walk in wine cellar capable of holding hundreds of bottles. There's also a gym and a billiard room.
On the main floor are several rooms – any one of which could serve as a living room. In the eastern portion of the house is a grand ballroom with a full wall mural. There's a wet bar just off of the ball room area. A glass-lined corridor at the rear of the house connects the ball room with the rest of the house. Several doors lead from the corridor out to the back yard and garden. Just off of the grand ball room is the kitchen area. There's another kitchen in the upstairs area.
There are at least five fireplaces, billiard room, study, elaborate plaster crown mouldings, and hand painted ceiing murals. There are 7 bedrooms and 10 bathrooms and a private tennis court as well.
April 2022: Please note that the house now has owners, and is not accessible.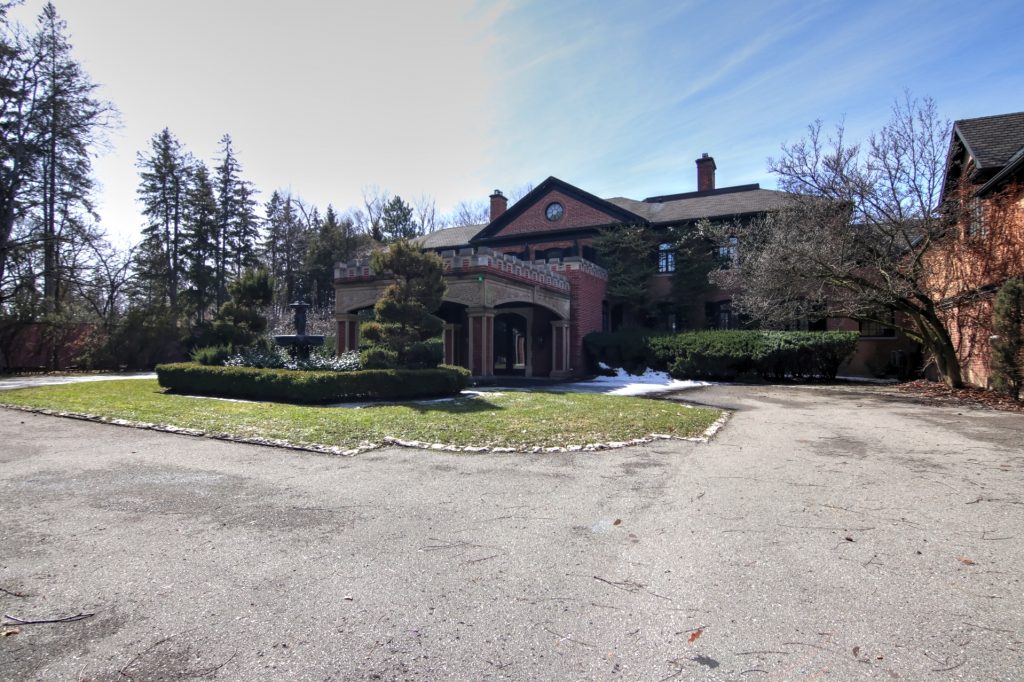 Video