Log Mansion Brampton
This gorgeous Ontario log mansion is located in Brampton. It's hidden away from the newer housing community just west of it and the entrance to the property is a long driveway tucked in a nestle of trees. The property is just feet away from a newer subdivision.

The history of the log house is that it was built in the 1980's by Thomas Blake, a Quality Assurance Consultant.
There are three bedrooms on the main floor and two in the basement. There are two interior spiral staircases and one exterior one.
The main fireplace is set into a large stone wall that makes up the majority of the wall and forms an arched doorway. Just beyond the arched doorway is another room with a fireplace. Someone had lit a fire either in the fireplace or on the floor and burned a hole through the floor.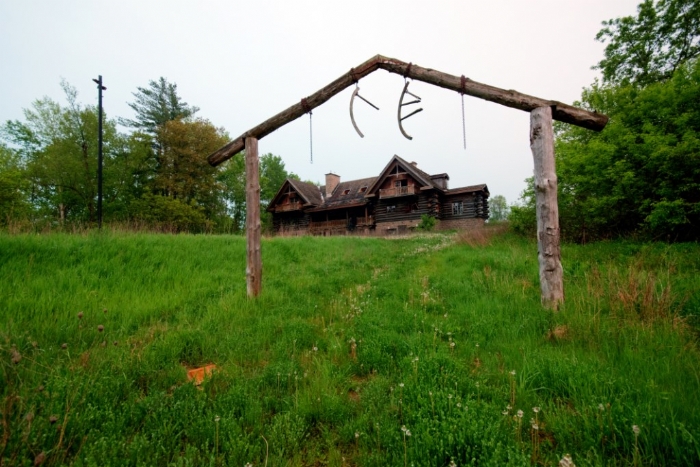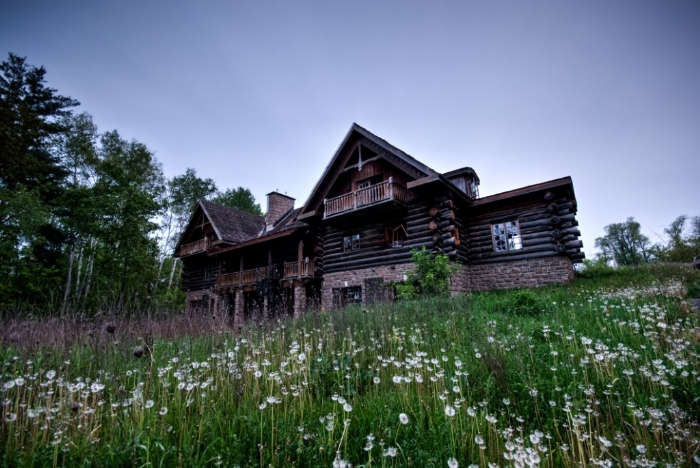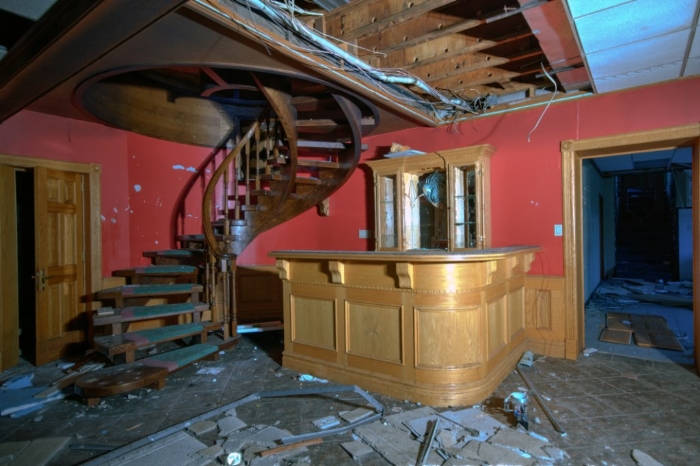 Where is the abandoned log mansion located?
The Log Mansion was located at the end of Vernosa Drive in Brampton. The exact coordinates are 43.64868,-79.77329.
Why was the log mansion abandoned?
The log mansion was likely sold to a land developer to become the site of future condominiums.
Is the log mansion haunted?
Only by the ghosts of teenaged idiots who vandalized it.
Did the log mansion burn down?
Yes, it was the victim of arson on April 5th of 2020.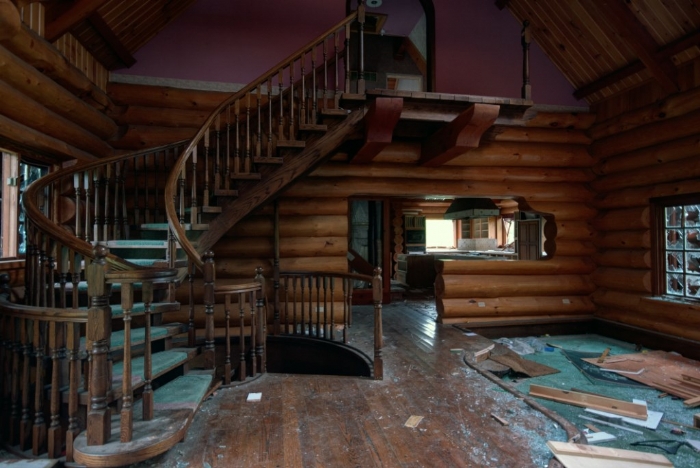 The front doors look as if they belong on a business. Above the doors is a circular stained glass window. In another room is a stained glass window of a unicorn.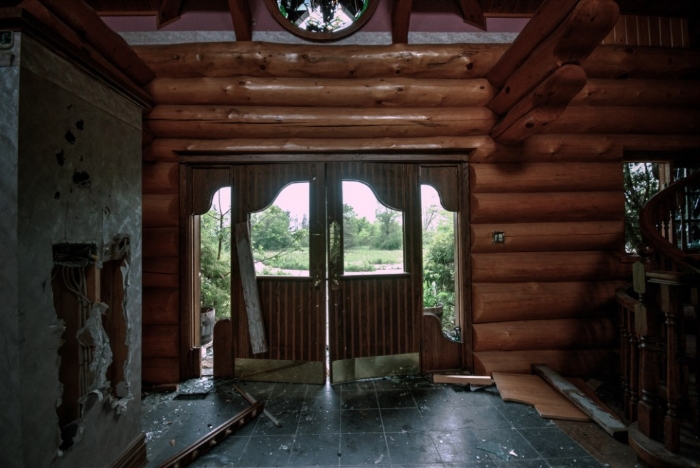 This is a view taken from the top of the staircase on the main floor. There's no railing here, I felt a sense of danger standing here. As of January 2020 the interior has seen even more vandalism beyond what's shown in these photos.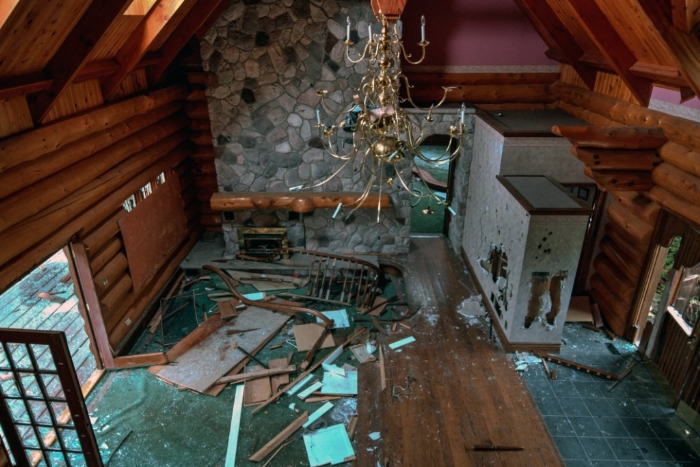 The kitchen is modern with a fireplace of its own, the other side of the fireplace opens into the dining room. There's a large exhaust fan set over the stove and a wall unit oven. The ceiling is made up of wooden beams laid out into rectangular shaped sections.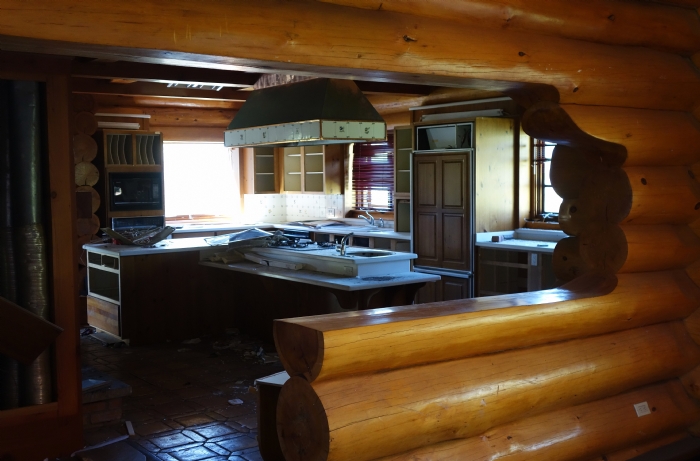 Vandals have torn the counter off and damaged most every pane of glass.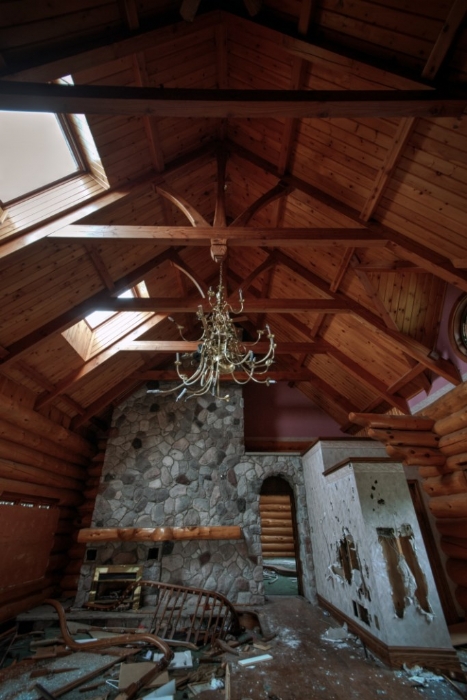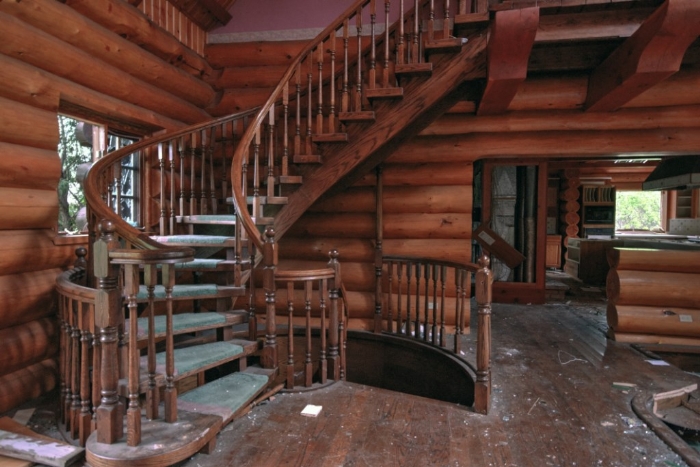 A view of the front of the home as seen from the driveway (below). This photo was taken at 9 PM when it was almost dark.
And the inevitable…